News & Events
As part of its educational mission, SRA is helping to support the Mendocino High School life science program which culminates in the SONAR program. SONAR (School of Natural Resources) prepares students to become environmentally aware citizens and trains these individuals for careers in environmental science. The program began there in 2001 and has now accumulated over 15 years of meaningful, scientific data which is collected in partnership with the Department of Fish and Wildlife (under the direction of Sean Gallagher) and Calif. Dept of...
read more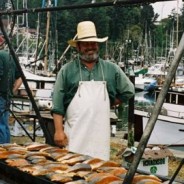 This year's Salmon BBQ is scheduled for Saturday July 2nd, 2016. This event is the main fundraiser for the Salmon Restoration Association. You won't want to miss it!! For details about our this event, please check out our page to learn more: The World's Largest Salmon BBQ. Buy Your Tickets...
read more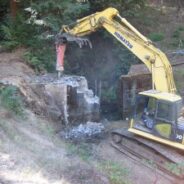 Barriers that prevent migration of endangered coho salmon to their natal streams are one of the major contributors to declining populations. Within the Big River watershed a few barriers still remain in the form of culverts that were improperly designed or installed and a few dams. Both types of these barriers may block adult or juvenile salmon from upstream migration depending on the height of the structure and the velocity of the water. This past fall the Big River Program of Mendocino Land Trust funded the removal of two dams: one from the...
read more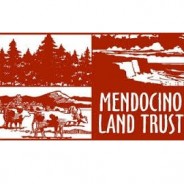 The Mendocino Land Trust received a check from the Salmon Restoration Association for $15,000 to start a salmon stream restoration project on the Noyo River in Mendocino County. Date:...
read more
3rd generation rancher, Margaret Perry. Photo courtesy The Nature Conservancy. Fall 2014 Partners are coming together to do something no one in California has ever done before – restore an entire watershed from the headwaters to the sea to help recover endangered coho salmon. The Nature Conservancy, in close cooperation with NOAA Fisheries, Hawthorne Timber, California Department of Fish and Wildlife, and Trout Unlimited, is planning to restore stream and floodplain habitat from the mouth of Ten Mile River all the way to its headwaters. Up to...
read more
The largest dam removal in the U.S. is already paying off in the return of salmon, bears, and other wildlife. For 102 years, native salmon bumped up against massive concrete hydroelectric dams on Washington state's Elwha River, stubbornly persisting in their primitive urge to swim upstream and lay their eggs. Last week, that persistence paid off. Habitat managers spotted Chinook salmon and bull trout in the upper reaches of that river—above the former locations of demolished 108-foot and 210-foot dams that long blocked their path to the...
read more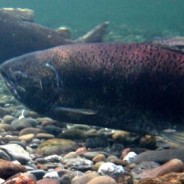 The 14,900 to 25,000 fall Chinook estimated by the Eel River Recovery Project (ERRP) in the 2013-2014 season is down somewhat from the previous year's estimate of 20,000 to 50,000 fish. These recent returns are comparable to those of 1955 to 1958 when the last previous basin wide surveys were conducted. The percentage of jack salmon, which are smaller male salmon that feed for only one year in the ocean, was low in 2013-2014 compared to some recent years. This indicates lower juvenile Chinook survival and suggests the ocean and future...
read more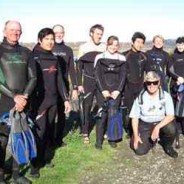 The Eel River Recovery Project is releasing the final 2013-2014 Fall Chinook Salmon Monitoring Report that estimates 14,900 to 25,000 Chinook salmon spawned throughout the watershed last fall and winter. The estimate is based on lower Eel River dive counts and organized observations of migration and spawning throughout the watershed that employ photo and video documentation. Dozens of volunteer divers once again turned out for ERRP lower Eel River surveys on October 12 and 26, and November 9. The counts built from 1,854 Chinook salmon on the...
read more
Aaron Swinford's favorite place on earth is Fort Bragg. He wanted Alondra Llamas to love it just as much. "I lived in Fort Bragg for about three years. It's the most beautiful place on earth to me. I connected to nature and to the ocean there. I found myself there. She was actually getting a little tired of hearing how much I love Fort Bragg and the Mendocino Coast," Swinford said. The Tony's Fine Foods route driver from Woodland enlisted the help of Harvest Market manager Tim Bosma and other local friends to help give Llamas an unforgettable...
read more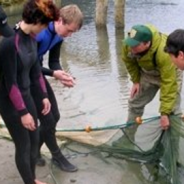 Salmon Restoration Association Grant Request Details Date: September 23, 2011 Name of Organization: School of Natural Resources (SONAR) Name of Project: Salmon Population Surveys Little North Fork Big River Contact Names: Robert Jamgochian Doug Nunn Address: 10700 Ford Street Mendocino, CA 94560 Telephone: 707.9375871 Fax:707.937 5629 E-mail: rjamgoch@mcn.org , dnunn@mcn.org Grant Amount Requested: $8000. (to be matched by district) Introduction Salmon have historically been found in...
read more