BBQ Funds Help local Salmon Recovery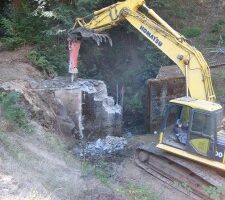 Barriers that prevent migration of endangered coho salmon to their natal streams are one of the major contributors to declining populations. Within the Big River watershed a few barriers still remain in the form of culverts that were improperly designed or installed and a few dams. Both types of these barriers may block adult or juvenile salmon from upstream migration depending on the height of the structure and the velocity of the water.
This past fall the Big River Program of Mendocino Land Trust funded the removal of two dams: one from the Little North Fork of Big River and one from Water Gulch. These dams were preventing juvenile coho salmon from accessing 9.5 and 2.6 miles of suitable upstream habitat respectively. The California Conservation Corp used jackhammers to remove the concrete structure on the Little North Fork while the Water Gulch dam required the use of heavier equipment.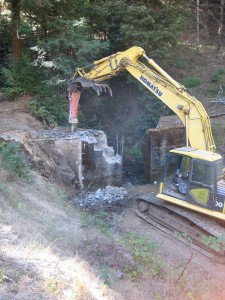 Additionally, the Big River Program contracted with HDR Engineering to develop a design to address another barrier on lower James Creek. This barrier prevents adult coho from reaching upstream spawning grounds except in very wet years. The goal of the finished design is to allow for eventual passage upstream (4.6 miles) 80% of the time.


Grant monies for these projects were provided by California Department of Fish and Wildlife and by our local Salmon Restoration Association.
Match monies ($39,486) for these three projects were provided from proceeds from the "Worlds Largest Salmon Bar-B-Que" that were dedicated to restoration efforts in Big River.
Local partnerships are a critical component to successful grant submittals. Thanks again to the Salmon Restoration Association for their continued support!