BBQ Salmon Recipe
Ingredients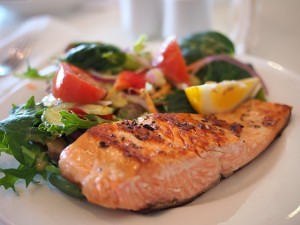 4 (6-ounce) salmon fillets
Basting sauce, recipe follows
Directions
Preheat an outdoor grill to medium heat.
Put salmon in a shallow baking dish and pour basting sauce over to coat the salmon, reserving 1/3 of the basting sauce for grilling. Marinate the salmon fillets for at least 30 minutes or refrigerate covered up to 4 hours. Place the fish on the grill skin side down. Grill until just cooked through, about 10 to 15 minutes. Brush with the reserved basting sauce throughout the grilling process. Serve immediately.
Basting Sauce
1 cup vegetable oil
1 teaspoon basil
1/3 cup lemon juice
1 1/2 teaspoons soy sauce
1 1/2 teaspoons Worcestershire sauce
2 tablespoons chopped fresh parsley leaves
1 teaspoon chopped fresh oregano leaves
1/2 teaspoon garlic powder
Kosher salt and freshly ground black pepper to taste
Combine ingredients in a bowl, mix well.